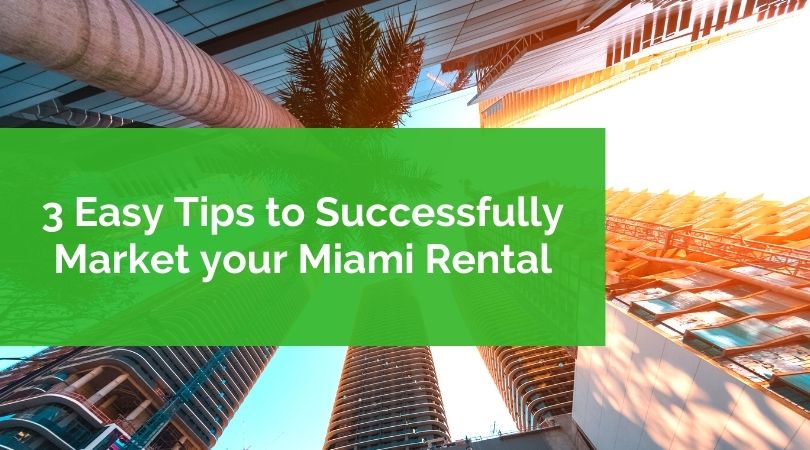 Do you want to fill your Miami rental with desirable tenants?
Rental property ownership comes with numerous challenges, especially if you are a first-time landlord. While upkeep, emergencies, and legal compliance are important, there's no easy way to get around marketing and advertising.
The key to having a property that's filled with tenants is having a smart marketing game. Empty rental units lead to expenses, and because they produce no income, there is no way to offset their running costs.
In this article, we'll look at the top ways you can start successfully marketing your Miami rental property. Here are 3 tried-and-true tips that will boost your advertising efforts and get you the qualified tenants you deserve:
1. Start with the Visuals
Once you make sure your property is ready to rent, you are going to need high-quality photos and videos if you want to stand out in a sea of rentals. Advertising is a visual task, even for rental properties. The footage of your rental should be well lit and attractive because a good-looking unit or property will spark a deeper interest in prospective tenants.
The easiest option available to you is to use the camera on your smartphone. Years ago, this would have been poor advice, but the latest technological developments have made smartphone cameras outstanding pieces of equipment.
The best approach, however, is hiring a professional real estate photographer. A professional photographer that specializes in real estate will have the knowledge, equipment, and experience to create outstanding, high-quality marketing materials.
You can have a hand in boosting the quality of your ads whether you hire a photographer or not. Here's what you can do to maximize the potential of your photoshoot:
Clean all the surfaces in your rental property.

Boost the amount of natural light entering your property by opening curtains and blinds.

Consider including models to create scenes in certain areas of the rental. For example, you could show people enjoying a poolside get-together, or relaxing in the backyard hammocks.

Declutter the living spaces. Remove items that block the natural light.

Think about staging the space for the photo shoot.
2. Write Immersive Property Descriptions
Amazing visuals aren't the only tool in your toolbox that can get people interested in your rental property. Never underestimate the power of good advertising copy! It doesn't take an experienced wordsmith to write good property descriptions.
Property descriptions should cover the basic information that people need. While original content is important, you can always check out other listings for some inspiration. Who knows, maybe you'll find an approach that you like and can tailor to your preferences!
Always try to put your reader's imagination to work. Describe the property in a way that allows the readers to imagine how it would feel living inside the rental. You might want to touch on the surrounding amenities and services, as well. If you know something about the local community and atmosphere, don't be afraid to include it in your copy!
Property descriptions should include details like:
Location

Number of bedrooms and bathrooms

Overall square footage

Utilities

Parking

Public transportation access points - types and distance from the property

Neighborhood highlights - local retail options and services
3. Combine the Best Offline and Online Methods
While online marketing is your best option because it is easy and effective, you should still utilize offline methods to market your rental property. You might be surprised to discover which marketing channel finally landed you the best renters!
Offline
Check out the public spaces in the surrounding area of your rental, specifically for any notice or bulletin boards. Bulletin boards can be a fantastic way to reach people who might be interested in what you have to offer. Be careful, though! You'll want to verify that these boards allow real estate ads to be posted.
Another offline marketing approach is the use of classified ads. Make sure to choose a platform that matches the demographic you are trying to reach. For instance, if you have a student rental, then college campus newspapers make sense as an efficient marketing channel.
Online
You should be allocating most of your resources and energy to online marketing. This is because most people are using their smartphones or computers to find rental properties. Being visible online is a crucial step in your property advertising plan.
Many sites and channels exist online that can help you find the perfect tenants for your rental units. Start with scanning social media for groups, location tags, and descriptive hashtags that could make your posts visible to the right people.
Consider the benefits of Zillow Rental Manager because this service enables you to find tenants who are also pre-qualified leads. You can check their credit score and proven income. You are able to use this service if you have less than fifty rental units.
Another popular and affordable option is Craigslist. However, you should exercise caution when posting ads on Craigslist. While it's a useful website, scammers actively use it in the real estate category as well.
You can use videos and live sessions on social media to increase your reach. As videos gain more exposure, you maximize the potential of reaching interested leads. Make sure that you post only high-quality videos as the standards have further increased in recent years.
Customize your messages and pieces of marketing copy to the particular channels that you are using. What works on a printed flyer may not be the best solution for a listing on a website.
In a Nutshell: Marketing Your Miami Rental
Every successful rental property advertising campaign starts with the use of high-quality visuals, whether that be photos or videos. You need to back up your visual materials with great copy. Finally, use a combination of social media channels, rental listing websites, and community bulletin boards to spread the word about your property.
Empty rental units generate no income. You want to fill your vacancies with qualified tenants, which means you need to employ strong marketing strategies. Both digital and traditional marketing methods will help you accomplish that goal.
If you are still feeling overwhelmed by the challenges of marketing your Miami rental property, consider hiring a professional property management company to give you a hand!