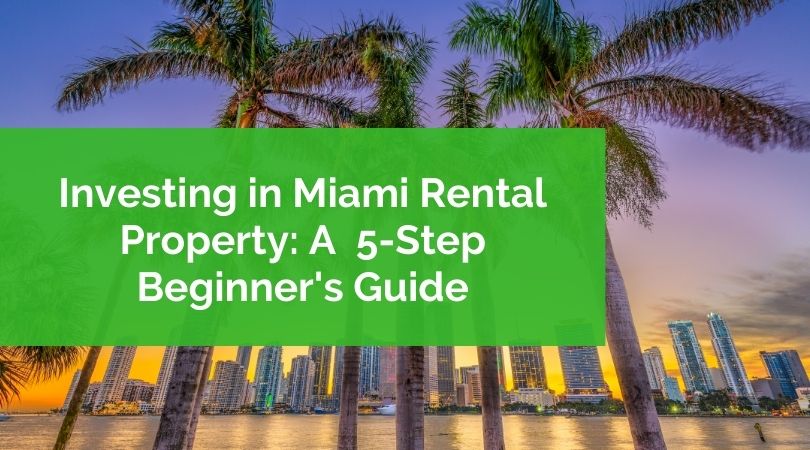 Are you looking to make your first rental property investment?
Maybe you are considering buying your first investment property, or are thinking about converting your home into one? Either way, you're taking a big step! When you are just starting out, it can be hard to imagine the extent of the responsibilities that come with investing in a rental property.
However, buying an investment property in Miami doesn't have to be totally overwhelming. Being prepared beforehand will make it easier for you to manage your new responsibilities. At the very least, you should aim to understand all the basics. After that, you'll learn through your individual experiences to gain the wisdom you need to continue to be successful in rental property investment.
In this beginner's guide, we'll help you master the basics by gathering all the best recommendations for first-timers. You'll read practical advice and gain crucial insights about rental investments, and learn how to increase your own chances of success!
1. Minimize tenant turnover by being a good landlord
Before ever making an actual investment, you can begin to come up with a game plan for minimizing your tenant turnover rate. It's a crucial piece of the puzzle because empty rental units generate expenses but no income.
The first step in reducing tenant turnover is that you must strive towards becoming a top-notch landlord. Good communication skills and customer service are essential to survival in the rental industry.
Whenever your tenants send you a message or make a phone call, try to understand their needs as renters. Take action immediately, or at the earliest opportunity, to address their concerns. Tenants truly appreciate landlords who are proactive and take care of sudden issues as quickly as possible.
Aim to create long-term landlord-tenant relationships with the people you have in your properties. Good relationships with your tenants can help mitigate a high turnover rate. As with any other business, focus on your target group and set your expectations accordingly. For example, student rental providers should not expect long-term tenancy.
If nothing else seems to work, ask for feedback. Some tenants may just be polite, but there could be something about your property that makes them say: "I want to get out of here now!"
Additionally, consider incentivizing long-term tenancies. A common approach is lowering the monthly rent for fixed long-term contracts or lease renewals.
For more tips for first-time landlords, check out our blog post.
2. Stay up-to-date with Miami regulations
One of the biggest obstacles that beginner landlords usually face is legal problems. Though you may be acting in good faith, you need to verify that all of your actions are legal according to Miami's regulations.
That's why it's critical to learn all about the laws and regulations in Miami. Check and double-check everything from zoning laws and building codes to landlord-tenant laws. If this seems overwhelming already, don't be ashamed to get professional legal support because some topics may be too specific to handle for someone without the proper background or experience.
3. Screen your tenants
Tenant screening is absolutely essential for every self-managing landlord. Finding the right tenants is critical because you want responsible renters who will pay rent on time, adhere to the rules, and treat the property as if it were their own.
Strict screening procedures ensure that you can enjoy the best tenants in your rental units. Adhering to the screening protocols will save you time and money long-term because you will face a lower risk of tenant damages and legal battles.
Every good screening procedure should answer the following questions:
Does the applicant have a criminal record?

Does the applicant have good references?

Does the potential tenant have a history of prior evictions?

Does the applicant have steady employment or other proof of income?
You should also run a credit check to ensure that the tenant has a history of making payments on time.
Whenever you conduct the screening, it's important to consider the Federal Fair Housing Act (the FHA). This federal statute has been put in place to fight discrimination in the housing market. You may not exclude an applicant due to their race, sex, religion, disability, familial status, or national origin.
4. Draft detailed lease agreements
A common problem that landlords face is that their lease agreements do not contain enough details. Try to address as many legal situations as possible. This can considerably decrease the risk of future disputes and court cases.
You should pay attention to all of the details of your lease agreements. You should exercise caution with these documents as not only are they legally-binding contracts, but they also regulate the relationship between you, the landlord, and your tenants.
The key components of your lease agreement should determine:
How much is the monthly rent? What are the terms and deadlines for payments? What payment methods are accepted?

What is the penalty for late payments? What are the associated rules?

Is the rental property pet-friendly? Are there any restrictions on the type and number of pets allowed?

What are your responsibilities as a landlord? What are your renter's responsibilities?

Do you allow smoking inside the property?
Confirm that each of your clauses adheres to the law. You need to ensure legal compliance with the laws of the federal government, the state of Florida, and the city of Miami. If you drafted an agreement on your own, it would be wise to get a professional to look at it before starting to use it.
5. Consider asking for a security deposit
Security deposits are a great way to give you extra peace of mind. According to some experts, tenants may be less negligent if their own money is on the line, so security deposits can help deter tenant-related damages.
If your property is in great condition, you can ask for a slightly higher than the average security deposit. You can use the deposit to deduct the expenses should your tenant damage the property or its components in some way, except for normal wear and tear.
Final Thoughts
Rental property investments carry the potential for great returns. As with any other major life choice, do your homework before taking any big steps. Work towards building long-term tenant-landlord relationships to reduce turnover, learn and adhere to government and Miami regulations, draft legally compliant and detailed lease agreements, and demand a security deposit to keep your tenants accountable.
Now that you know the basics, consider checking out our post about how to spot a bad investment property!
Contact us today to learn more about investing in rental properties in Miami!